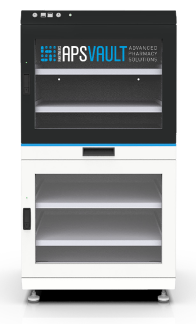 THE DISPENSING SOLUTION THAT GIVES YOU THE FLEXIBILITY YOU NEED
The APS Vault is a compact, automated dispensing unit that integrates seamlessly with the APS Ecosystem.
It is composed of two secure units- the upper unit is refrigerated facilitating storage for Infusion Therapy, Insulin, Narcotics etc.
The lower section has a flexible draw configuration and can hold up to 100 bulk medications such as Inhalers and Emergency Kits.
The APS Vault's inventory is controlled by the APS software which provides exact tracking and monitoring of all medications as well as inventory replenishment.