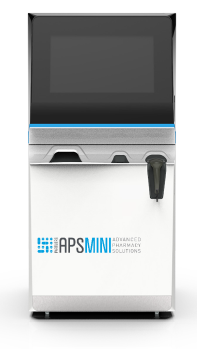 PROVIDING THE RIGHT TREATMENT AT THE RIGHT TIME
The APS MINI is a small and modular unit that can store up to 30 types of oral medications. Designed primarily for the easy distribution of PRNs (As Needed) medications, its main advantage is that nurses don't need to leave their units to access PRNs.
The innovative APS MINI has a small footprint and can be easily placed in key locations in your facility, such as the nurses station or hallways, and is especially handy in facilities with multiple-floors.
The user-interface of the device is optimized to need only 4 touches before dispensing medications, ensuring fast and easy access.
As part of the next generation APS Ecosystem, all usage data is integrated into the APS database from which advanced analytics can be drawn, while the APS software manages the inventory and ensures prompt refills.